Share Desk: The Benefits of Collaborative Work in Coworking Spaces
In today's business world, the concept of collaborative work in coworking spaces is gaining increasing importance. In particular, the opportunity to use a share desk opens up new perspectives for companies and brings a variety of benefits. In this article, we will delve into the advantages of collaborative work and utilizing a share desk in coworking spaces.
INHALT:
Benefit 5: Sense of Community and Work-Life Balance
Benefit 1: Flexibility and Cost Savings
Utilizing a share desk in a coworking space allows companies to have high flexibility regarding their work environment. Instead of entering into expensive long-term office lease agreements, companies can rent a share desk in a coworking space. This provides them the opportunity to switch between different workstations as needed. Significant cost savings are achieved as payment is only made for the actual time used.
Benefit 2: Networking and Synergies
Another major advantage of collaborative work in coworking spaces is the opportunity to establish valuable connections and create synergies. By collaborating with other professionals and companies who also utilize a share desk, numerous networking opportunities arise. These connections can lead to new business opportunities, collaborations, or even long-term partnerships. The share desk serves as a meeting point for the exchange of ideas and experiences.
Benefit 3: Professional Work Environment
A coworking space offering share desks ensures that the work environment meets the needs of modern companies. These spaces are equipped with high-quality office furniture, state-of-the-art technology, and a pleasant atmosphere. Companies utilizing a share desk can work in a professional environment that provides them with the necessary comfort and infrastructure to be efficient and productive.
Benefit 4: Creativity and Inspiration
Collaborating with other creative minds in a coworking space, especially when working together at a share desk, fosters creativity and inspiration. Regular contact with different fields of expertise and access to diverse ideas and perspectives lead to innovative approaches and solutions. The share desk becomes a place where creativity thrives, and new impulses are generated.
Benefit 5: Sense of Community and Work-Life Balance
A bench workspace is a special type of workspace designed for flexible employee usage. Instead of having a fixed desk, employees utilize a pool of workstations based on their needs and availability. But what are the pros and cons of bench workspaces? Let's take a closer look.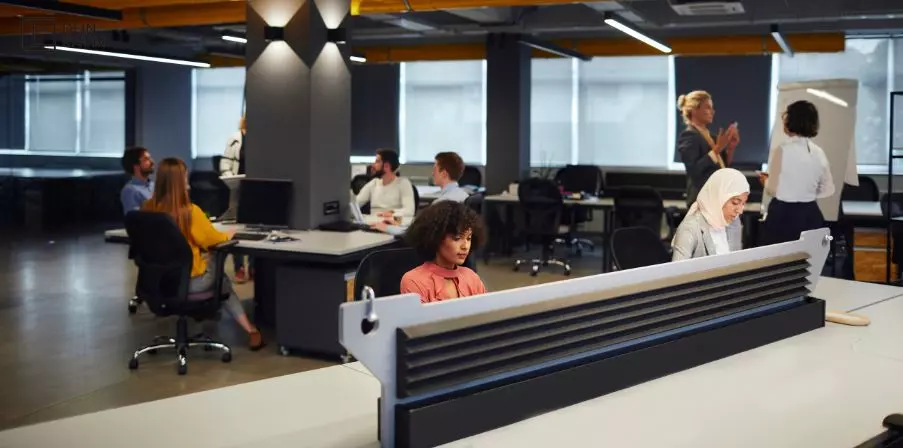 👉 Start a trial month of the DEIN RAUM application now and benefit from the New Work concept.
DEIN RAUM is your New Work expert and provides you with their in-house desk-sharing software as needed. You can now test the DEIN RAUM desk-sharing tool for free for 30 days at deinraum.io.